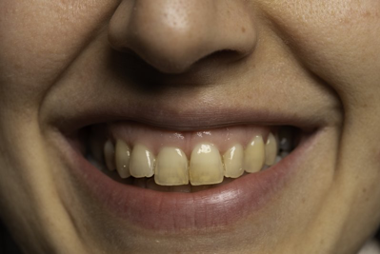 Are you worried about stained teeth? So are many others. In fact, teeth whitening is one of the most common cosmetic dental procedures out there. There are many different reasons that teeth become stained and different ways to avoid it and reverse it. Continue reading to learn more from your cosmetic dentist in Wheaten about why teeth get stained and what you can do about it.
What Types of Tooth Discoloration Is There?
Extrinsic Teeth Stains: This is a stain that forms on the surface of the tooth. Usually this is caused by stain particles, like pigmented residue from food or drinks. This builds up in the film of protein that covers the tooth enamel and causes staining.
Intrinsic Teeth Stains: This type of stain is below the surface of the tooth. It occurs when stain causing particles work through the exterior of the tooth and accumulate within the enamel. It can also be caused by excessive fluoride use in children. These are much trickier to remove.
Age-Related Teeth Stains: This is a combination of both of the types listed above. Something that also contributes is that the dentin in the middle of your tooth becomes more yellow over time. When your enamel becomes thinner with age, the dentin shows through and causes teeth to appear discolored.
What Causes Stained Teeth?
Food and beverages: Dark colored foods and drinks like coffee, cola, tea, red wine, and berries are known to stain your teeth and cause discoloration over time.
Poor Oral Care: Inadequate brushing and flossing can cause a number of dental issues over time. It can also lead to staining.
Tobacco: Cigarettes and chewing tobacco are known to contribute to the yellowing of your teeth.
Disease: Trauma, illness, or disease can all contribute to the discoloration of teeth, especially for children.
Medical treatments: Certain medical treatments can cause your teeth to become discolored. This includes high blood pressure medications, antihistamines, antipsychotic medications, and chemotherapy.
Your dentist offers two different types of teeth whitening. Both are effective at removing stains from your teeth and giving you a bright white smile that you will be proud to show off. Here are your options:
In-Office Whitening
When you come into the office for this treatment, your dentist will shield your gums and lips with a rubber barrier to prevent irritation. Next, she will apply a solution to your teeth. This will be left on your teeth for a short amount of time and then reapplied until you reach your desired shade of white. You can see results in just one visit to the office!
At-Home Teeth Whitening
If you are not fond of the idea of getting your teeth whitened in the office, ask your dentist about take-home whitening kits. They contain whitening agents that are much stronger than what you can find in the store and they are customized just for you. It will contain a whitening gel and trays. Your dentist will also give you specific instructions on how long and how often you will need to wear the trays. You will see results in as little as two weeks!
Anyone can get stains, but you don't need to live with them. You can take everyday steps, like avoiding red wine and dark colored sodas, to prevent them from occurring. If you're worried about the color of your teeth, talk to your dentist about teeth whitening. You will be showing off your bright white smile in no time!
About the Author
Dr. Kathy Lam is a general and cosmetic dentist serving the Wheaton, IL area. She earned her Doctor of Dental Surgery from Howard University College of Dentistry and attended a residency at Waterbury Hospital Health Center in Connecticut. She offers teeth whitening as one of her many services. For more information or to schedule an appointment, visit her website or call (630) 653-7720.