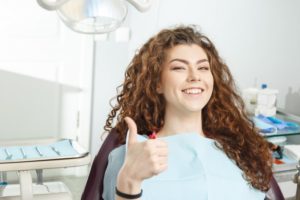 From haunted houses to creepy costumes, October is filled with spooky things. However, there's one thing you shouldn't be afraid of this time of year, and that's visiting your dentist. Unfortunately, dental fear has become increasingly common – up to 1 in 5 Americans has avoided seeing their dentist out of fear or anxiety. Whether you've had a bad experience with a dentist in the past, you're afraid of needles, or you simply don't like the sounds the instruments make, it's important that you don't let dental fear stop you from attending routine preventive checkups. Keep reading to learn why frequent visits are crucial and how your dentist can alleviate your worries!
Why Routine Visits Are Important
If you brush and floss daily, you might not see the point in getting your teeth professionally cleaned. However, these appointments are just as important in keeping your mouth healthy as daily brushing and flossing. They give the hygienist an opportunity to remove plaque from your teeth that, if left alone, could lead to cavities or gum disease. Plus, your dentist can detect oral health problems early enough that treatment is still relatively easy (and cost-effective).
While missing one dental exam every once in a while is probably not a big deal, consistently skipping these appointments can be catastrophic for your teeth and gums. Decay or infection can spread to multiple teeth, requiring extensive (and costly) treatments. Not to mention, these issues often cause a great deal of pain.
Believe it or not, poor oral health can even contribute to medical problems in other parts of your body. Gum disease has been linked to a host of other conditions, including:
Heart disease
Type 2 diabetes
Alzheimer's disease
Osteoporosis
Left untreated, bacteria from an infection in your mouth can wreak havoc. That's why it's important to see your dentist at least twice a year!
How Your Dentist Can Help with Your Anxiety
If you struggle with dental anxiety, keep this in mind – your dentist just wants to provide you with the care your smile needs to stay healthy. They're not there to pass judgment. In fact, most dentists are willing to do whatever they can to ensure you feel comfortable during your appointment. If you've been having trouble keeping up with your appointments due to anxiety, be sure to let them know. They can discuss options to help you feel relaxed at their office.
While dental fear isn't bad in and of itself, its consequences on your oral health certainly can be. To keep your mouth and body as healthy as can be, ask your dentist about scheduling a checkup and cleaning before the year ends. That way you can start off the new year with a bright, healthy smile!
About the Author
Dr. Kathy Lam is a dentist in Wheaton, IL who obtained her Doctor of Dental Surgery degree at the Howard University College of Dentistry in 2002. Her compassionate nature helps set patients at ease and make them feel comfortable while receiving the care they need. To schedule a checkup or learn more about the importance of good dental health, contact Dr. Lam's office at (630) 653-7720.