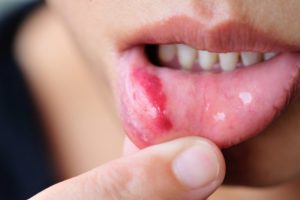 With the winter season in full swing, your body can experience some unfavorable changes. As it applies specifically to your mouth, you may notice such problems as discomfort, sensitivity and changes in its appearance. Unfortunately, there's no fast-forward button to make the colder months go by swiftly, so what can be done to protect your mouth? Keep reading to discover how to prevent winter mouth issues.
Chapped Lips
When colder weather is combined with higher wind gusts, the result can be dry lips. To protect yours, apply lip balm that contains at least SPF (sun protection factor) 15, which helps to block 93% of UVB (ultra-violet B light).
You should also increase your water intake. This will help to keep your skin hydrated. It will also help to install a humidifier in your home to increase the air moisture while you sleep.
Sensitivity
Your mouth responds to air temperature drops. When you're outside breathing frigid air, you may notice sensitive teeth, as they are subject to expanding and contracting during the colder months.
To prevent any sensitivity, attempt to breathe through your nose when you're outside. It also helps to use toothpaste with extra fluoride fortification.
Cold Sores
The chilled winter air can also cause cold sores to develop. The tiny fluid-filled blisters gather around the lips. To prevent this from happening, you can use a lip balm with SPC 15 or higher. Washing your hands thoroughly and regularly can help control the spread of viral bacteria that cause cold sores. It's also important to manage your stress levels, as the expression of certain hormones (cortisol, adrenaline, etc.) can contribute to cold sores.
Canker Sores
A canker sore is a small, shallow injury inside the mouth. When it appears, it can be difficult to chew or talk. Consuming acidic or spicy foods can increase the chances of one forming. If you have a flare-up, try swishing with a mixture of one teaspoon of salt and a half cup of water. It also helps to use an alcohol-free solution like peroxyl mouthwash.
Dry Mouth
The winter months are considered cold-flu season. Nasal congestion is common during this time of the year, which can cause more oral breathing. This can lead to dry mouth and attract oral bacteria, which can encourage tooth decay.
During these months, increase your water intake and cut back on your consumption of caffeine. You can also chew sugar-free gum to aid in keeping your mouth moist. While the winter months aren't always the most fun, you can at least protect your mouth by following these simple tips.
About the Author
A graduate of Howard University College of Dentistry, Dr. Kathy Lam has nearly two decades of experience providing comfortable, precise and personalized dental care. To further expand her knowledge, she takes hours of continuing education. Dr. Lam meets the varied dental needs of her patients at her private practice, and she can be reached for more information or to schedule a visit through her website.