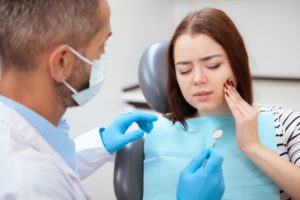 Have you just broken or knocked out a tooth? Has a raging toothache developed out of nowhere? If so, you're probably already stressed enough without worrying about how much your emergency dental care will cost. Fortunately, dental insurance might be able to foot some of the bill. Read on to learn more about whether dental insurance covers dental emergencies.
What Dental Insurance Covers
No two dental insurance policies are exactly alike. However, most of them follow the 100-80-50 rule when it comes to coverage, which looks something like this:
Preventive care (checkups, cleanings, X-rays) is typically covered at 100%.
Basic treatments (fillings, gum disease therapy) are usually covered at around 80%.
Major procedures (root canals, dental crowns) are often only covered up to 50%.
Will My Dental Insurance Cover Dental Emergencies?
Every dental emergency is different. Therefore, the treatment required – and the price of care – can vary based on your unique circumstances. For example, if your toothache can be remedied by a simple filling, it's likely that your insurance will cover a majority of the cost. If, however, you require a more extensive procedure like a root canal, you'll still be responsible for about half of the bill.
That said, you should never let worries about the potential cost keep you from getting the urgent dental care you need. Unlike the rest of your body, your teeth cannot heal themselves. This means that putting off treatment could make things worse in the long run. For instance, a small cavity that only needs a filling could progress to the point that the tooth needs to be removed entirely. Extracting and replacing a tooth can cost several times more than a filling!
Save Money by Preventing Dental Emergencies
While not every oral health problem can be avoided, you can take certain precautions to minimize your risk of being saddled with an unexpected dental emergency. The easiest way is to visit your dentist twice a year for a checkup and cleaning. These routine appointments help your dentist spot problem areas and treat them before they become full-blown emergencies. Plus, dental insurance will almost always cover the cost of these visits at 100%!
Maintaining your oral hygiene at home is another way to reduce the risk of dental emergencies. Brushing your teeth for two minutes twice per day, flossing daily, and rinsing regularly with an antibacterial mouthwash can go a long way toward keeping your smile strong and healthy.
In the end, the specific details of your dental emergency will affect how much insurance coverage you're eligible for. Remember, seeking the care you need as soon as possible is the best option for your smile and your wallet!
About the Author
Dr. Kathy Lam is a dentist in Wheaton, IL with almost 20 years of experience. Her practice always tries to see patients with dental emergencies as soon as possible. They also welcome virtually all PPO dental insurance plans and are in-network providers for most of them! For uninsured patients, Dr. Lam offers low-interest financing through CareCredit. To get fast, affordable treatment for your dental emergency, visit her website or call (630) 653-7720.