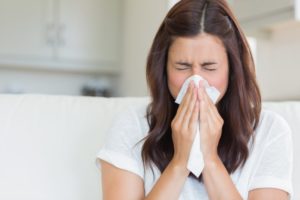 It's that time of year again! Some may know April for it's spring showers, or taxes, however this month also brings allergies. Coughing, sneezing, sniffling, and mouth breathing are some of the common side effects that come with April, but did you know that your allergies can affect your oral health? Read on to see how your smile is at risk when allergies are at an all-time high.
Why Are Your Allergies Bad Right Now?
Everyone has different allergies, however April is a time of year when most peoples' symptoms tend to flare up. This could be due to many reasons, but the most common is pollen. During this time of the year, trees, weeds, flowers, and other plants are releasing tiny grains into the air to help fertilize nature! Of course, this is necessary for the environment, but this amazing part of the outdoors unfortunately leads to irritation for those with allergies once it's inhaled through the nose.
The Connection Between Allergies & Oral Health
Allergies themselves do not cause oral health issues, however some of the factors surrounding them do. The antihistamines you may use to treat symptoms often cause dry mouth. Additionally, mouth-breathing because of a stuffy nose will contribute to this condition.
While dry mouth may seem harmless, this can actually have a seriously negative impact on your oral health. Whether you realize it or not, your saliva flow plays an important role in the health of your smile, washing away food debris, plaque, and bacteria throughout the day. But, if the mouth isn't producing saliva, bacteria can grow. They will interact with the sugars in your mouth to create acids, which eat away at enamel and cause infection.
How to Stay Smiling During Allergy Season
Thankfully, dry mouth as well as the problems that come with it can be easily avoided if you know the right steps to take. Start by always making sure that you have water nearby. Drinking water throughout the day is not only great for your body, but it will also stimulate saliva flow and wash away food debris. Plus, most tap water contains fluoride – a naturally occurring mineral that fights cavities.
Another simple way to get your saliva flowing is to chew sugar-free gum. This is a great way to stimulate your saliva if you're one of those people who have difficulty drinking lots of water. As an extra measure, you can also sleep with a humidifier to keep moisture in the air.
Allergy season comes with enough issues. You can prevent your oral health from becoming part of the problem by remembering these helpful tips.
Meet the Dentist
Dr. Kathy Lam believes in a completely personalized approach to dentistry. She uses her extensive knowledge and training to help her patients smile with ultimate health. Plus, she attends continuing education courses to ensure that she's offering the latest and greatest dental care. For any questions, she can be reached through her website or by phone at (630) 653-7720.