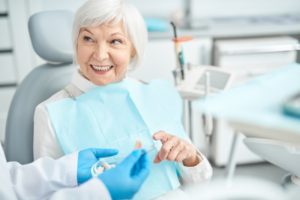 Living without a full set of teeth can place limits on the types of food you can eat and affect your confidence. Thankfully, you have two convenient options for restoring your smile to normal. As you continue reading, a local dentist explains the difference between partial dentures and dental bridges so you can better decide which route to take.
What is a Partial Denture?
A partial denture consists of a plate that is either made from plastic or a metal-plastic mixture, that supports one or more prosthetic teeth. The plate, which is made to resemble the gums, attaches to the remaining surrounding teeth via a clip.
What is a Dental Bridge?
Similar to a partial denture, a dental bridge can replace one or more missing teeth. However, it relies on the surrounding teeth to serve as abutments (anchors), which requires the teeth to be altered so that dental crowns can be placed over them. The bridge is held in place by being bonded with dental cement.
The Differences Between a Partial Denture and Dental Bridge
While partial dentures and dental bridges serve the overall purpose of creating a complete and functional smile, they differ in the following ways:
Appearance – The dental bridge isn't fabricated with imitation gums. Instead, it is made to fit flush with your existing gums.
Replacement Method – Whereas a partial denture can be used to replace any missing teeth along an arch, a dental bridge is designed to only replace teeth that are consecutively missing.
Permanence – Because partial dentures clip into position, they can easily be removed for cleaning. Conversely, dental bridges are permanent and must be treated like your natural teeth.
Flexibility – A dental bridge is unique in that it can potentially be attached to a dental implant to create a more functional and natural restoration.
What's Best for You?
Deciding which procedure is best for you depends on the number of teeth you have missing and the proximity of the smile gaps. The dentist will also make a recommendation based on the condition of your oral health. For example, if you're susceptible to losing teeth in the future, the dentist may recommend going with a partial denture.
Ultimately, dental restorations are highly customized, so the only way to get a clear picture about which direction to take is to visit for a consultation. Therefore, you can determine what's the best type of care for your needs. As a result, you can feel comfortable about the route you're taking to achieve a full and functional smile.
About the Author
Dr. Kathy Lam earned her dental degree from the Howard University College of Dentistry. Over the past two decades, she has managed to keep her skills sharp by receiving several hours of advanced postgraduate training from Spear Education. Dr. Lam replaces missing teeth with partial dentures and dental bridges in a precise and personalized manner at her private practice, and she can be reached for more information or to schedule a visit through her website.