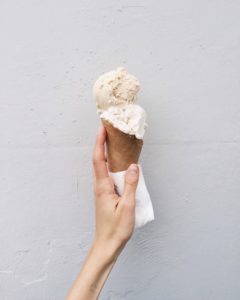 If you enjoy frozen snacks on a hot day, like popsicles or ice cream, you're not alone. A cold, sweet treat is the perfect way to end a long summer day. Although you know they may not be good for your waistline, is ice cream bad for your teeth? Unfortunately, your sweet tooth can leave a lasting mark on your smile. Don't worry, you don't have to drive by your favorite ice cream shop. Here's how you can protect your smile while indulging in a cold treat.
Effects of Ice Cream on Your Smile
Ice cream often contains a lot of sugar, which is known to cause tooth decay. When sugars combine with your saliva and oral bacteria, it creates an acidic plaque that can erode your enamel. Over time, a hole can form, called a cavity. Not to mention, the increased levels of oral bacteria raise your risk of gum disease, which is the leading cause of tooth loss.
Maintaining a Healthy Smile for Summer
You don't need to avoid ice cream to keep your teeth and gums healthy; however, it's best to have it in moderation. An occasional bowl of ice cream won't instantly cause tooth decay, but you'll want to watch how often you eat it. Your dentist has a few additional tips to keep your smile healthy this summer:
1. Commit to Your Oral Hygiene
The best way to prevent tooth decay and gum disease involves your oral hygiene habits. The American Dental Association recommends brushing your teeth at least twice a day. Use a soft-bristled toothbrush and fluoride toothpaste to clean all surfaces for at least 2 minutes. Don't forget to use high-quality dental floss to clean between each tooth daily.
2. Visit Your Dentist
Besides your oral hygiene at home, routine care from your dentist is equally important. It is best to schedule a cleaning and checkup at least every 6 months. Your dentist will monitor your oral health to detect weakened enamel or gum disease early to quickly intervene.
3. Limit Your Toppings
Adding toppings to your ice cream increases your sugar intake. It's better to skip syrups, candies, and other sticky toppings. Instead, consider adding fresh fruit, like strawberries.
After finishing your treat, brush your teeth well. If you can't get to your toothbrush, rinse your mouth with water to remove cavity-causing residue from your teeth. You can also chew a piece of sugarless gum, which will encourage your saliva production to clean your mouth.
You don't have to ignore your craving for your favorite summer treat. A proactive approach to your oral health will safeguard your smile against common dental issues.
About Dr. Kathy Lam
Dr. Lam earned her dental degree at Howard University College of Dentistry and has continued her training through Spear. She focuses on prevention to create healthy smiles that last; however, she is also qualified to provide many advanced treatments. If it's time for your next cleaning and checkup, contact our office today to schedule an appointment.